Corkjoint was founded in 1984 in Sydney, Australia by Jim Gately and began by producing cork expansion jointing for the Australian market. After the first year a branch in Melbourne was established followed by Brisbane, Perth expanding to include the S.E. Asian markets of Singapore and Malaysia. The range of products had expanded from Cork into other products which were allied to jointing in concrete and soon became the major supplier in the industry.
In September 2006, Corkjoint (Australia) Pty Ltd and Corkjoint (Victoria) Pty Ltd were sold off to Parchem Construction Products Pty Ltd (a member of the Dulux Group of Companies) and Parchem retained the markets of Australia and New Zealand.  Corkjoint (Malaysia) Sdn Bhd and Corkjoint (Singapore) Pte Ltd service the markets of Asia, The Middle East and the rest of The World.
Corkjoint Malaysia and Corkjoint Singapore have no association with Parchem Construction Products nor are they a member or part of the Dulux Group of Companies.
Corkjoint Malaysia and Corkjoint Singapore continue to set industry standards and have become organizations specializing in jointing, connecting and sealing solutions for the international market.
Our key competencies include:
The manufacturing and development of specialised construction materials.
Total jointing solutions – from product specification and suggestions to installation training at the site for the end-user.
Extensive Product Range
Our product range includes:
Our Growth
Due to high customer demand in the South East Asian market, Corkjoint (Malaysia) Sdn Bhd was formed in April 1996 and is our main regional office. Establishing a presence in Malaysia has allowed Corkjoint to expand its operations in to South-East Asia, the Asia Pacific and Middle East regions via a direct supply presence or through a network of strategic and supportive distributors. Corkjoint (Malaysia) has played a leading role in numerous high-profile developments, from local projects such as the Kuala Lumpur International Airport and Ulu Jelai Hydro Power Dam to regional undertakings such as the Lusail Expressway Tunnels in Doha to a number of hydro dams in Vietnam and Myanmar.
Corkjoint Singapore Pte. Ltd. was established in November 2007 as a result of continuing customer demand from the Singaporean market. Corkjoint Singapore has replicated the success of Corkjoint Malaysia by supplying many of the major projects and iconic buildings in Singapore such as Marina Bay Sands, Resorts World Sentosa, Marina Coastal Expressway, Changi Airport Terminals 1 & 2 and Singapore Sports Hub.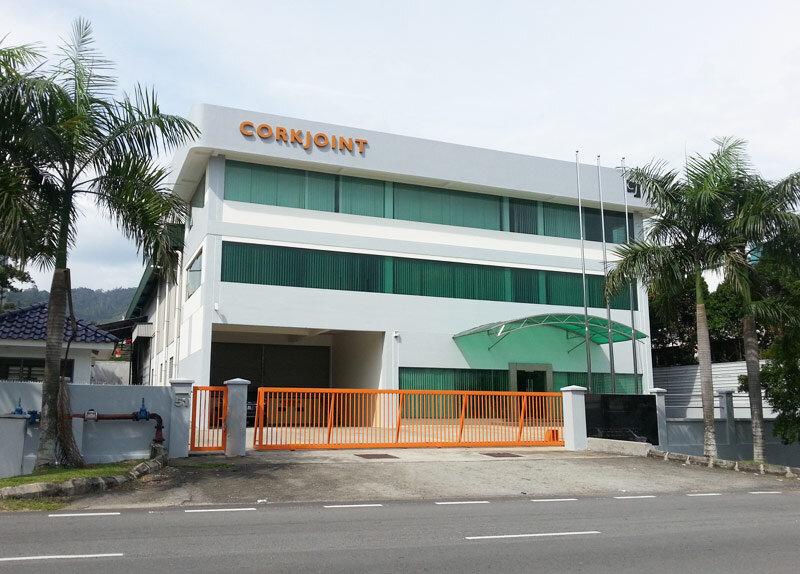 Corkjoint Malaysia Regional Head Quarters, Kuala Lumpur, Malaysia.
Our Beliefs
Our staff have been the crucial cog to our continued success, helping us grow to the level where we are today. We are passionate about ensuring we hire people with the same values, high standards, and professional ethics, to deliver beyond our clients' expectations.
We strongly believe in innovation, which allows us to maintain our leading position in the industry by utilizing cutting-edge and advanced technologies.
Our supply partners from around the world are also a big part of our success as we choose and work with companies who have similar ethics and values as us. All have been long-term partners who have been a big part of our business for over 27 years.
Address: Industrial Park, No. 51, Jalan BRP 8/2, Bukit Rahman Putra, 47000 Sungai Buloh, Selangor