SUPERSWELL® 47B Hydrophilic Butyl Waterstop Seal
Superswell 47B® Hydrophilic Butyl Waterstop Seal is a unique sealing compound which expands in a controlled fashion when exposed to moisture, forming a compression seal in concrete joints. Superswell 47B® is ideal for use in horizontal and vertical construction joints for cast in-situ concrete structures.
Superswell 47B® is manufactured utilising a specialised mixing process which encapsulates hydrophilic materials into a Butyl base creating a controlled, moisture-activated seal. The product has the structural integrity and the long term durability features of Butyl, as well as the ability to expand to create a SELF-HEALING JOINT WATER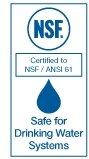 STOP SEAL.
Superswell 47B® complies to NSF/ANSI Standard 61 Drinking Water System Components – Health Effects, ensuring Superswell 47B® is safe for use in drinking water applications. Therefore, it is suitable to use in various potable water retaining structures like water tanks, swimming pools and reservoirs.