HYDROSTOP® CJ1 Injection Hose System
Product Description
HYDROSTOP® CJ1 Injection Hose System is a specially designed, highly functional multi-injectable injection hose system, used to seal joints in concrete against water egress.
HYDROSTOP® CJ1 Injection Hose System is used to transport grouting materials and then disperse them into the concrete joint via micro openings equally positioned along and around the hose.
HYDROSTOP® CJ1 Injection Hose System is a highly resistant, robust, fully tested, single channel injection hose system that is made of specially developed PVC materials.
HYDROSTOP® CJ1 Injection Hose System has the ability for multi-injectable grouting processes with use of the correct type of injection materials. This ability allows the system to be re-injectable for the life time of the structure, giving total peace of mind and assurance that the structure can be fully sealed and resealed. This is a great advantage if movement or shrinkage occurs between concrete joint faces of the structure.
Advantages
A perfect sealing solution
Fast and easy to install
Economical handling due to simple, easy connection of accessory pieces
Low consumption of grouting material due to optimum inner hose diameter
Maximum safety features as grouting processes are performed under very low pressures
Simple grouting process with multi-injectable capabilities
Multiple grouting materials can be processed
Highly economical due to rapid laying times and injection processes
Ultimate grouting processes performed at 8m-12m intervals between injection points. Overlength
injections of up to 30 metres can be achieved with special injection processes and use of correct
Areas of Application
Basements and below ground structures
Tunnels and underground vaults
Water and sewerage treatment plants
Ground and elevated reservoirs and dams
Suspended slabs and roof slabs
Water tanks and poolsAll areas where construction joints are present and require sealing against water or require a particular joint sealing process
Water excluding and water retaining structures
Note : The product's design and performance, its intended use, installation and final confirmation and approval for use, must be provided by the project's Design Engineer and Project Manager.
General Information
Unsealed construction joints can decisively lessen the durability and utility-value of concrete structures. Nowadays, injection hose systems are being increasingly used for sealing construction joints in waterproof concrete structures. Their advantages are numerous when compared to traditional waterstop systems. It is not always required to inject the hose but usually only if the joint is leaking, thus making it a very cost effective procedure.
The area of application is usually at the construction joint (other application areas can be applied) where hardened and fresh concrete have to be joined in such a manner that the sealing effect of the construction joint is fulfilled equally.
Simple and rapid installation is achieved at all positions, levels and angles. Hydrostop® CJ1 can also be laid where the installation of traditional systems is constructively impossible; for example, on geometrical complicated surfaces such as sheet piling, diaphragm and contiguous pile walls and old to new construction.
Reliable sealing of construction joints, cracks and voids in the construction joint may be filled via Hydrostop® CJ1. This is not possible to achieve with conventional waterstop systems. Hydrostop® CJ1 is used in all types of construction joints and in particular during the construction of water and
sewage treatment plants, dams, barrages, underground garages, tunnels and the construction of foundations, basements, bridges and power stations.
 Note: The product's design and performance, its intended use, installation and final confirmation and approval for use must be provided by the project's Design Engineer and Project Manager.
Typical Applications
Injection Materials
Acrylic Gel
P.U Resin
E.P Resin
Ultra-Fine Cement
Note: Only acrylic gel or ultra-fine cement can be used for re-injectable processes.
System Components
Hydrostop® CJ1 injection hose – 100 metre roll

CJ PVC Reinforced Hose – only required for special applications to channel grouting material.

CJ Injection Point – dual injection point.
CJ Hose Clamp – holds hose in position on concrete surface, used in conjunction with impact plug.
CJ Impact Plug – securing pin for use with hose clamp.
CJ Hose Joiner – to join CJ PVC Reinforced Hose to Hydrostop® CJ1 injection hose.
Injection pumps, Injection resins & Injection nipples – used to perform the injection process.
Storage Conditions & Shelf Life
5 years from the date of production if stored properly in original, unopened and undamaged sealed packaging, in dry conditions out of direct sunlight at temperatures between +10°C and +40°C.
Installation Procedures
The surface to receive the Hydrostop® CJ1 must be structurally sound, clean, free from dust and laitance, be flat and not overly rough or have deep pitted holes, and any exposed aggregate to be chipped off.
Hydrostop® CJ1 is preferably positioned in the middle of the substrate and must have a 100mm minimum cover of concrete from any outside edge. Refer to Drawing 1 & 2.
Hydrostop® CJ1 must lie flat on the 1st concrete section with the hose clamps spaced every 150mm to 200mm apart. The injection hose should not be loose or lifting off from the concrete surface at any location. If the concrete surface is rough or uneven, then the hose clamp spacings may need to be positioned closer so the injection hose is fully touching the surface of the concrete. Refer to Drawing 2 in the Product Brochure.
The standard installation length of Hydrostop® CJ1 is at approximately 8 metres to 12 metres, as this will allow for the best optimal injection process. For injection of Ultra Fine Cement (UFC) a maximum length of 8 meters should be used. Overlength applications of up to 30 metres are possible but correct installation procedures and the use of Hydrostop Acrylic Gel injection material must be used via a special 3K injection pump. Refer to CORKJOINT for further information for overlength requirements.
The Injection Points need to be placed in positions that allow for future access for injection of the Hydrostop® CJ1. If an Injection Point needs to be positioned at a long distance from the actual injection hose location, due to accessibility requirements, then the use of CJ PVC Reinforced Hose is required to channel the injection material from the Injection Point to the Hydrostop® CJ1.
For guaranteed security and performance, it is suggested that two layers of Hydrostop® CJ1 be placed if the concrete substrate is greater than 1.0 metre wide or thick. For slabs, one positioned in the top third thickness and one in the bottom third thickness. For walls, one positioned in the outer third section and one in the inner third section.
At locations where two Hydrostop® CJ1 injection hose lengths meet at the joint face, to then connect to the Injection Point, both injection hoses must lap each other by 150mm and be at 30mm apart. Refer to Drawing 1 in the Product Brochure.
Note: Please refer to the manufacturer's installation procedures and guidelines (available upon request).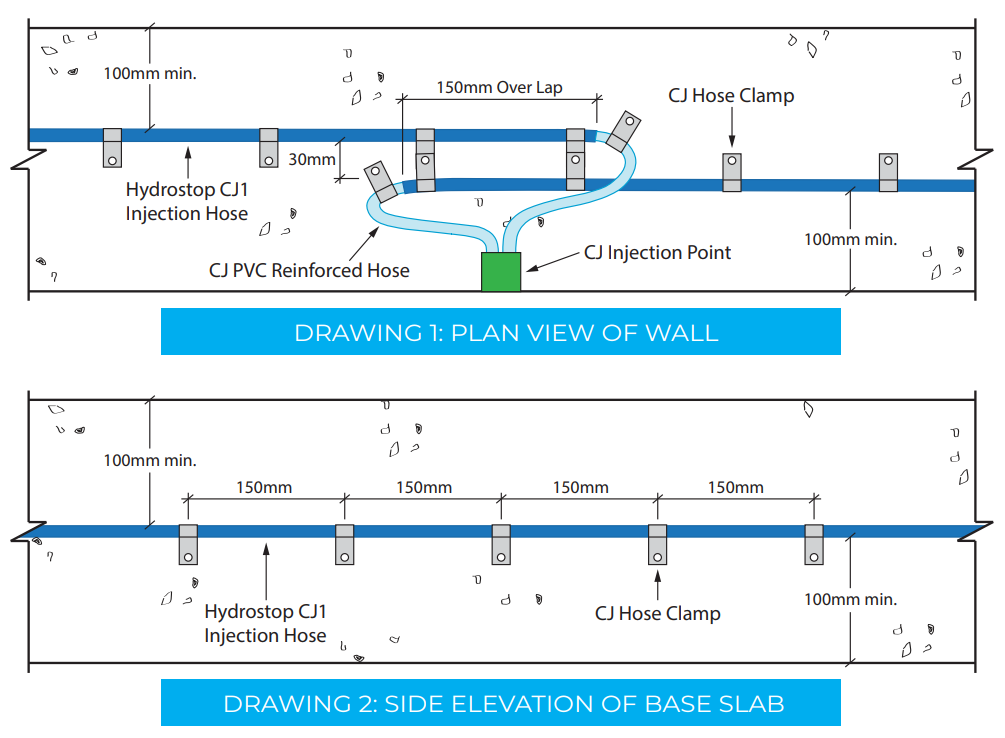 Note : The product's design and performance, its intended use, installation and final confirmation and approval for use must be provided by the project's Design Engineer and Project Manager.
Injection Process
The following injection procedure is based upon the use of Hydrostop Acrylic Gel (HAG) injection material. For an injection process using P.U, E.P or UFC, contact CORKJOINT for further information.
Prior to undertaking an injection process, check that the Hydrostop® CJ1 is free and clear, by injecting with water or air. Locations of the joint that have exposed voids or areas that have moisture or water slowly leaking from them, use a quick dry cement to help plug the area so to help prevent the egress of injection material out of the joint during the injection process.
Hydrostop® CJ1 is injected via the Injection Point. The HAG injection material is injected into the
injection hose until 100% of the injection material is flowing out from the outlet pipe of the opposite
Injection Point. Once the HAG injection material is flowing freely (no air pockets or water from flushing is present), stop injecting and close the outlet pipe off with the use of an injection nipple. The injection hose is now ready for the 1st injection process to take place.
The injection process is undertaken with a suitable injection pump for use with HAG injection material A 2 component or 3 component manual or electric compressed air injection pump with an adjustable pressure gauge manometer, provide the best optimal injection process. Hydrostop® CJ1 is injected with an injection pressure of approximately 2.0 Bar up to 3.0 Bar for Standard injection lengths. Low pressure is best as it allows for the HAG injection material to slowly and easily penetrate into the joint, cracks and voids of the concrete.
The injection process is monitored by visually inspecting the joint location where the injection hose is positioned and by means of the pressure gauge on the injection pump. If a manual hand-pump is being used, then monitoring is also done manually by feel and vision. Note: Not always are you able to visually see injection material egressing out of the joint as the injection material may be coming out from the opposite side of the joint that can't be seen, so monitoring of the injection pump by the pressure gauge, by feel and listening to the pump is important.
The injection process is continued until the joint is full with injection material. Depending upon the type of injection pump being used, will depend upon how you are able to ascertain if the joint is filled with injection material or if another injection process is required. If the joint stops leaking water after a few minutes of injecting, then the injection process is successful and a second injection process may not be required. A second injection process is recommended even if the joint stops leaking so to be sure that the joint is completely filled with injection material.
Hydrostop® CJ1 needs to be flushed out fully with water after the injection process has taken place and prior to the HAG injection material curing, otherwise the injection hose will be blocked and no future reinjection can take place.
Note: Installation Guidelines and Injection Method Processes are available upon request. Fully trained specialist contractors are available to perform the installation and injection processes for Hydrostop® CJ1. Refer to CORKJOINT for further information.
Limited Warranty
This warranty only applies when any injection grout, resin OR any other materials recommended by
CORKJOINT is used in injecting through the Hydrostop® CJ1 injection hose system. Should any UNAUTHORIZED product be used in injecting the Hydrostop® CJ1 injection hose, this will void any perceived OR written warranty that may relate to the Hydrostop® CJ1 products.
Written Specification
Where shown on the drawings, the injection hose system shall be Hydrostop® CJ1, multi-injectable, single channel, PVC injection hose with micro opening injection ports as supplied by CORKJOINT. The injection hose system must have the ability to be a multi-injectable for the life time of the structure and proof of this is to be provided by an independent laboratory test report and be submitted to and accepted by the engineer. All components of the system must be original parts supplied from the manufacturer.
Disclaimer
The information and the recommendations relating to the application and end use of this product are given in good faith and are based on the information provided by the manufacturer of the product and/or the Company's current knowledge and experience in connection with the product when properly stored, handled and applied under normal conditions and no liability of final function at the job site is assumed. In practice, the differences in materials, substrates and actual site conditions are such that no warranty in respect of merchantability of, or fitness for, particular purpose, nor any liability arising out of any legal relationship whatsoever, can be inferred either from this information, or from any written and/or oral recommendations, or from any other advice offered by the Company. The Company also has no express or implied knowledge of any particular purpose for which the product is required and any such information given will not be taken into account in the supply of this product. No responsibility or liability by the Company will be accepted for misuse, misreading or derivation from recommended guidelines in respect of this product and the user shall determine the suitability of the product for his intended use and assume all risks and liability in connection therewith. The information contained in our brochure may change at any time without notice. Any use of this product, Hydrostop® CJ1, in any application should be approved as suitable for use/application by the Design Engineer and Project Manager.