J-SEAL® CJ-102 BUTYL RUBBER SEALANT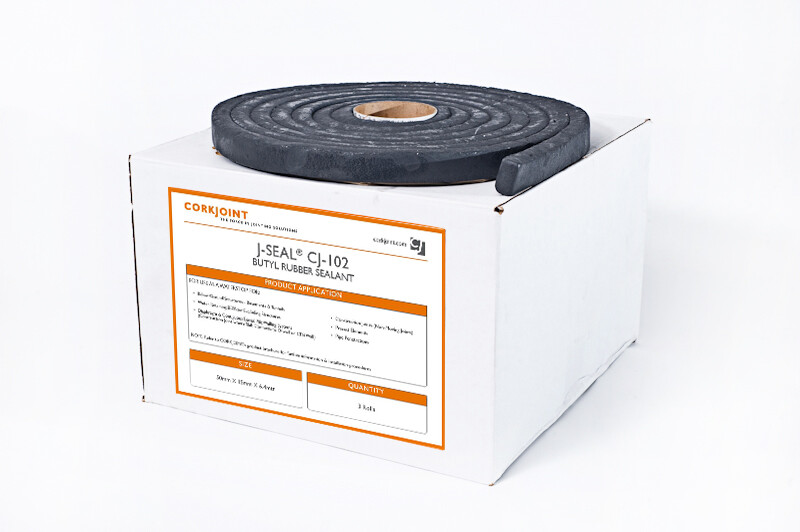 Click on Image to view full screen
Product Description
CORKJOINT J-SEAL® CJ-102 Butyl Rubber Sealant is a type of butyl rubber sealant that is commonly used in construction and building projects to create a water-resistant seal between two surfaces.
Butyl rubber is a synthetic elastomer that is known for its excellent impermeability to gases and liquids, making it a popular material for sealing applications.
J-SEAL® CJ-102 is specifically formulated to provide a high level of adhesion to a variety of substrates, including metal, concrete, and wood. It is also highly resistant to UV radiation, extreme temperatures, and other environmental factors, making it a reliable choice for outdoor applications.
Overall, J-SEAL® CJ-102 is a versatile and reliable choice for anyone looking for a high-quality butyl rubber sealant that can provide a long-lasting, watertight seal in a variety of different applications.
Advantages
Provides permanently flexible watertight joints.
Low to high temperature workability: -1°C to +48°C
Rugged service temperature: -34°C to +93°C
Excellent chemical and mechanical adhesion to clean dry surfaces.
Greater cohesive and adhesive strengths.
Sealed joints will not shrink, harden or oxidize upon aging.
Controlled flow resistance for application ease.
No priming normally necessary. When confronted with difficult installation conditions, such as wet concrete or temperatures below 4°C, priming the concrete will improve the bonding action. Consult
CORKJOINT for the proper primer to meet the application.
More forgiving then a cured rubber gasket which requires perfectly formed joint areas. Butyl-rubber
sealant has the ability to accommodate minor imperfections in the joint area.
Areas of Application
J-SEAL® CJ-102 used predominantly as a waterstop seal for joints in precast elements that are placed below the ground.
Manholes
Vaults
Septic Tanks
Construction Joints (Non-moving Joints)
Concrete Pipes
Box Culverts
Vertical and Horizontal Joints in Precast Wall
Note : The product's design and performance, its intended use, installation and final confirmation and approval for use, must be provided by the project's Design Engineer and Project Manager.
Standards
J-Seal® CJ-102 meets or exceeds all of the requirements of Federal Specification SS-S-210 (210-A), and ASTM C-990-91.
Hydrostatic Resistance
J-Seal® CJ-102 meets the hydrostatic performance requirement as set forth in ASTM C-990 section 10.1.
(Performance requirement: 10psi for 10 minutes in straight alignment – in plant, quality control test for joint materials.)
Chemical Resistance - Immersion Testing
30-Day Immersion Testing:
No visible deterioration when tested in 5% Caustic Potash, 5% Hydrochloric Acid, 5% Sulfuric Acid, and 5%
saturated Hydrogen Sulfide.
One Year Immersion Testing:
No visible deterioration when tested in 5% Formaldehyde, 5% Formic Acid, 5% Sulfuric Acid, 5% Hydrochloric Acid, 5% Sodium Hydroxide, 5% Hydrogen Sulfide, and 5% Potassium Hydroxide.
Installation Procedures
The following procedures should be followed for optimum sealant performance.
Clean the joint surface with a stiff bristle brush. Remove any dirt, debris, flashing, or concrete high points, which could keep the joint from coming together.
 • If necessary, a joint primer (CJ-200-15 Adhesive) can be applied to improve sealant adhesion.
Refer to CORKJOINT's CJ-200-15 Adhesive product brochure for further information.
• When using a primer, allow the primer to dry before placing sealant. The primer will normally be tacky or dry to touch within 15 – 20 minutes.
Install the sealant onto the primed surface with a firm force from the palm of your hand. Do not over press or flatten the sealant.
For joins, butt join the sealant into one continuous strand by kneading the ends together where they meet. Do not stretch the sealant during installation and do not overlap the sealant at the join areas.
Once the sealant is installed, do not step on or allow dirt or debris to fall on the sealant.
A minimum compression of 50% is required. Greater than 50% compression is optimal. It may take 15 – 20 minutes for the sealant to fully compress. This will vary according to the ambient temperature and the
weight of the element being applied.
Note : The product's design and performance, its intended use, installation and final confirmation and approval for use, must be provided by the project's Design Engineer and Project Manager.
Refer to the Product Brochure for more details.
Written Specification
Waterstops where shown on the drawings shall be Superswell® 47B controlled expansion waterstop as supplied by CORKJOINT. The waterstop is to have a built-in expansion control system to minimise any pre-expansion prior to the second pour taking place and be able to withstand up to 60 metres (6.0 Bar) hydrostatic head pressure resistance. The waterstop is to be placed in accordance with the manufacturer's installation guidelines, and the Design Engineer's specification.
Health and Safety Information
For further information or advice on health and safety precautions, safe handling, storage and correct disposal of products, please refer to the most recent product Safety Data Sheet (SDS), which is available upon request.
Disclaimer
The information and the recommendations relating to the application and end use of this product are given in good faith and are based on the information provided by the manufacturer of the product and/or the Company's current knowledge and experience in connection with the product when properly stored, handled and applied under normal conditions and no liability of final function at the job site is assumed. In practice, the differences in materials, substrates and actual site conditions are such that no warranty in respect of merchantability of, or fitness for, particular purpose, nor any liability arising out of any legal relationship whatsoever, can be inferred either from this information, or from any written and/or oral recommendations, or from any other advice offered by the Company. The Company also has no express or implied knowledge of any particular purpose for which the product is required and any such information given will not be taken into account in the supply of this product. No responsibility or liability by the Company will be accepted for misuse, misreading or derivation from recommended guidelines in respect of this product and the user shall determine the suitability of the product for his intended use and assume all risks and liability in connection therewith. The information contained in our brochure may change at any time without notice. Any use of this product, Superswell® 47B, in any application should be approved as suitable for use/application by the Design Engineer and Project Manager.