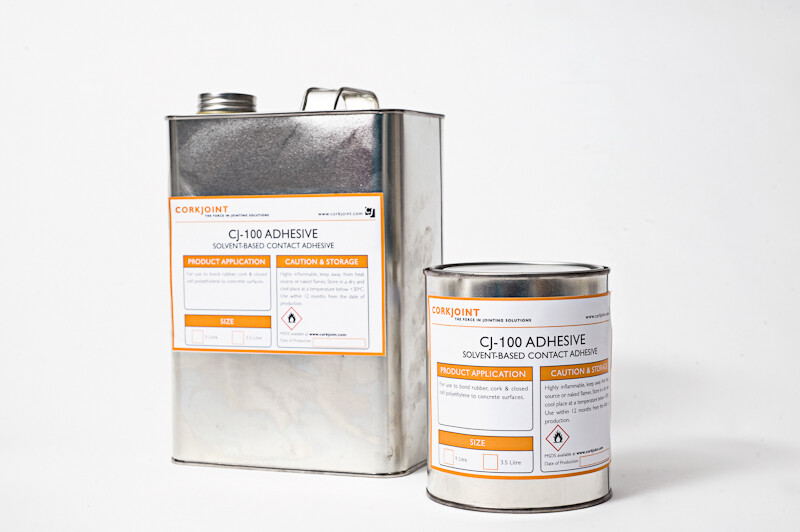 Click on Image to view full screen
Product Description
CORKJOINT CJ-100 Adhesive is a premium quality solvent-based synthetic rubber resin adhesive formulated to bond a variety of common materials. It has high viscosity, short tack time, is easy-to-apply, offers superior bonding strength and cost savings.
CJ-100 Adhesive is used to install Corkjoint's range of hydrophilic waterstops and expansion joint fillerboards.
Areas of Application
CJ-100 (CJ100) is suitable for bonding rubber, cork and closed-cell polyethylene to concrete surfaces.
Note: The product's design and performance, its intended use, installation and final confirmation and approval for use, must be provided by the project's Design Engineer and Project Manager.
Application Procedures
Surface must be clean, dry and free of dirt, grease, oil & water.
Stir adhesive thoroughly before use.
Apply the adhesive to both surfaces to be bonded with a dry, clean, brush or scraper to give a uniform coating.
Allow the solvents to evaporate until adhesive film is "tacky" or "touch dry". It will take between 10 to 20 minutes depending upon the surface porosity and the weather conditions.
Position the coated surfaces accurately before assembling them, and upon installation, apply an even pressure to the installed material to consolidate the bond.
Bond strength can be fully obtained after 24 hours.
Storage and Shelf Life
Highly flammable, Store in a dry and cool place below a temperature of +30°C and keep away from all sources of heat and sunlight. The shelf life is 12 months in an unopened condition and if stored as per recommendations.
Health and Safety Information
Avoid contact with eyes, skin and mouth. Use in a well-ventilated area. In case of contact with eyes, flush with water immediately for 15 minutes. If irritation persists, seek medical attention.
Do not apply highly flammable adhesive near smoke or naked flame. In case of fire, extinguish with carbon dioxide, dry chemical or foam fire extinguisher.
As with all construction chemical products caution should be exercised. Protective clothing such as gloves and goggles should be worn. Treat any splashes to the skin or eyes with fresh water immediately. Should any of the product be accidentally swallowed, do not induce vomiting, but call for medical assistance immediately.
In confined spaces or in still air conditions, the use of a ventilation fan or suitable respirator should be used, and the advice and approval of the Site Safety Supervisor is essential. For further information or advice on health and safety precautions, safe handling, storage and correct disposal of products, please refer to the most recent product Safety Data Sheet (SDS), which is available upon request
Disclaimer
The information and the recommendations relating to the application and end use of this product are given in good faith and are based on the information provided by the manufacturer of the product and/or the Company's current knowledge and experience in connection with the product when properly stored, handled and applied under normal conditions and no liability of final function at the job site is assumed. In practice, the differences in materials, substrates and actual site conditions are such that no warranty in respect of merchantability of, or fitness for, particular purpose, nor any liability arising out of any legal relationship whatsoever, can be inferred either from this information, or from any written and/or oral recommendations, or from any other advice offered by the Company. The Company also has no express or implied knowledge of any particular purpose for which the product is required and any such information given will not be taken into account in the supply of this product. No responsibility or liability by the Company will be accepted for misuse, misreading or derivation from recommended guidelines in respect of this product and the user shall determine the suitability of the product for his intended use and assume all risks and liability in connection therewith. The information contained in our brochure may change at any time without notice. Any use of this product, CJ-100 Adhesive, in any application should be approved as suitable for use/application by the Design Engineer and Project Manager.